"You have a history," she said, "that you are responsible to."

"What do you mean by responsible to?"

"You're responsible to it. You're answerable. You're required to try to make sense of it. You owe it your complete attention."

Don DeLillo – Underworld
Sometimes you don't know you're running until you look back and realise something's chasing you. It might not catch you on a long hike. It might not catch you—quite—on an intercontinental flight. But it might very well catch you on a Greyhound bus from Austin to Houston.
Towards the end of the three hour journey the road was growing lanes and the flags on poles in front of car dealerships were bigger than ever, than anywhere. As if it were possible to doubt what country you were in, here, of all places, where the present, vast and empty in the temporal dimension, occludes all context. In the beginning there was the I-10 and it was seen to be good—vaulting the surface streets on the approach to downtown. Cars and trucks in adjacent lanes edging ahead and falling back on the waves of traffic. Each one containing a person, coming from somewhere and with somewhere to go. A beginning, and an end. A story.
To have a story is what it means to be American. It is the land of apocrypha, history's eternal preludes. Because so many of the stories that we consume are American the template for our own stories is American too and, leaving, it felt like mine had come home to roost or to rest amongst the novels and films, amongst the quotidian things people tell each other about who they are.
Paris, Texas opens with the lead character alone, insignificant and lost in the desert, vast and empty in the spatial dimension. I used to think it was a story that started at the end, the story of how he came to be there. I was reminded of it because the view filling the windows of the bus matched the scene where he drives to Houston, his going-on-eight-year-old son in the passenger seat. I thought about why they'd been written onto this same road, where they were going, in the cinematic light of the evening, 1984. I realised that the story of the film is just much as about the son, going to Houston to search for his mother.
This summer it will be twenty years since she—mine—died. 1994. I'll turn twenty eight in July.
The tired travelling cliché is that it's about finding yourself. I've never believed that, but a part of my self—an eight year old boy, searching—had found me. The end of this trip was the beginning of accepting that—him—and that there is something that I won't find, not anywhere and not in anyone.
The person it has made me I did not previously, fully, apprehend. That made things more difficult than they needed to be in America and before. I'd leaned on Sarah harder than was fair and I felt guilty for it. She dropped me at the bus terminal in Austin with the promise that I had a friend for life. To say such a thing, having seen me at my worst, meant a great deal.
I disembarked the bus into a newness that I wouldn't be privileged of again soon. And I realised that the greatest freedom is to be wholly present, in the story you're reading or the one that you're writing, in the river you're swimming in or the city you're wandering around, as you wait for a flight, on a spring afternoon, 2014.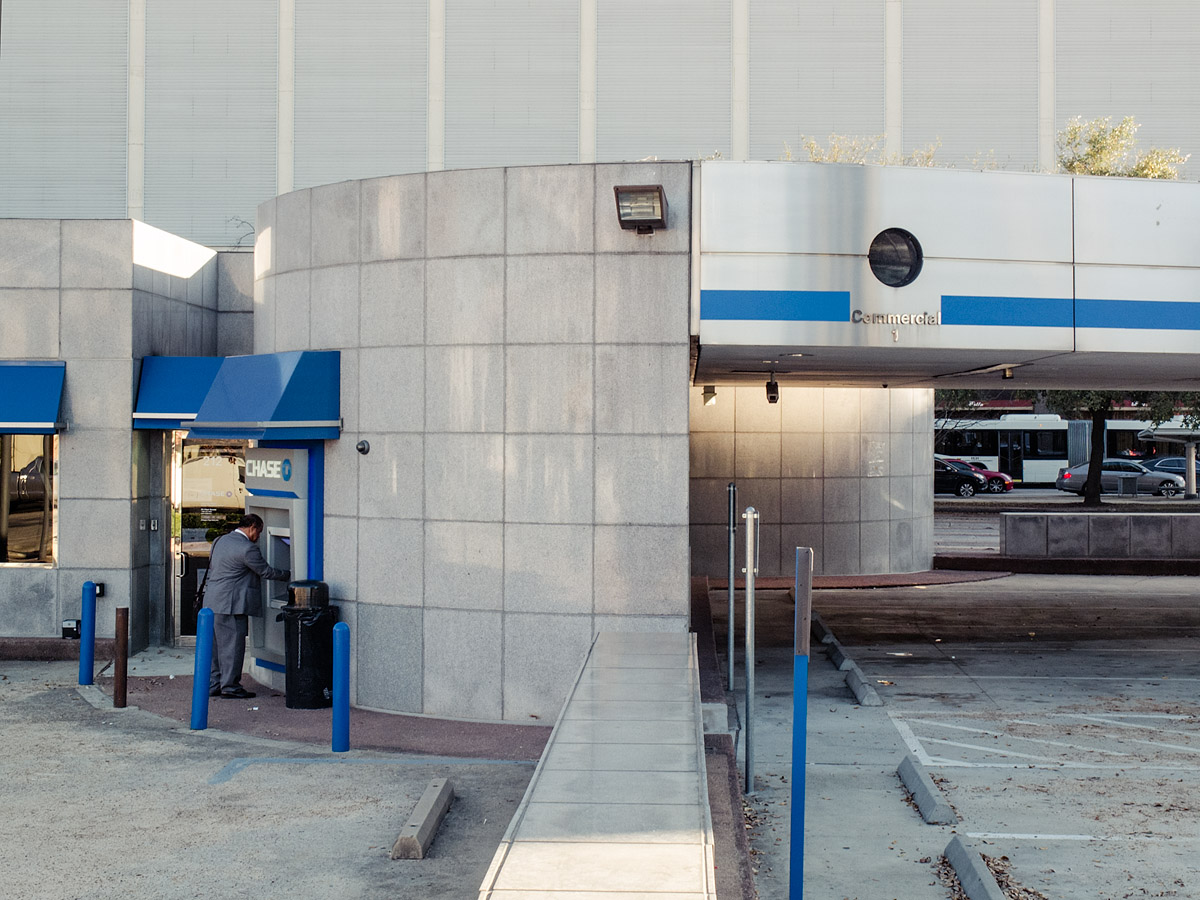 Houston ·
The location in Paris, Texas where the son first sees his mother
—
Big Bend National Park is a vast area of desert on the American side of the Mexican border—demarcated by the Rio Grande river—and named for the turn that the river takes through it. I'd first found out about it because one of my favourite films, Paris, Texas, was shot there. While still in Texas it's an eight hour drive from Austin and so we set off early one Thursday morning, the trunk full of standard issue leisure camping equipment and the back seats well-furnished with snacks and red wine. The landscape along the way was featureless, but not featureless enough to be remarkable. After changing heading from west to south for the final miles the mountains folded the desert, enveloped us and we pulled into the campground with time to set up and watch the sun go down on the first day of our adventure.
I was still in New Zealand mountain climbing mode so the next day we hiked up the highest peak in the park. I fully underestimated how difficult—ever so difficult—Sarah would find it. She did better than I think she realised, completing the round trip in the suggested 7 hours but "hating every minute" of them. I felt proud of her in a way she couldn't understand and an unfamiliar responsibility for someone other than myself. More than anything I wanted to find things that she would enjoy doing—at some level out of neediness, to be also the person that she wanted—but more because the good times were doubly so for having shared them.
In the evenings the sun, still wintering, would set early and we'd sit out against the cold for as long as we could until the stars were showing full against the blackness above and we retired to the tent. I don't remember now what we talked about on those nights but they were the closest I'd felt to anyone in a long time. The mornings, consequently, remained a struggle for me, much as I tried for Sarah's sake not to let it show. There was a solace in the passing of the days though, full as they became with beauty, in their own way as wild and majestic as the best days in New Zealand.
After Big Bend we stopped in a place called Terlingua for a short while. It was a former mining town which had been abandoned and was just now being recolonised as a "ghost town". We both loved it and should have taken the local advice to stick around for our last night of the trip. Instead we went to Marfa which was the sole disappointment out of everywhere we'd visited. I likened it to Texas curated by New York Times readers, preternaturally desperate for culture and unwilling to eat anywhere without an hour-long waiting list.
Going to Big Bend fulfilled the promise I'd made Sarah to take her there and the promise that it had made me from the background of a few movie scenes. More than anything it had confirmed to me—however and as whoever I had ended up there—how great these wild places can be and that they are never so far from any situation.
—