This was the first full-length article I wrote for Ride UK. Originally published in issue 118, October 2008, written around June 2008.
Nan Goldin maintains the only people you really have the right to photograph are your own tribe. And my tribe for the last four years has become a group of BMX riders in and around the UK's largest town, Reading. Before I came here for university I'd already been riding for about four years and now I'm graduating and moving on.
…BMX also exists in the most ordinary places, and it doesn't get much more ordinary than Reading.What's really great about BMX is that it exists wherever you go, from the polished glass and chipped marble of a financial centre, spade-sculpted woods away in the countryside or to the Favelas of Rio-de-Janerio (see Bruce Crisman's video about Alessandro Lima Terres). But it also exists in the most ordinary of places, and it doesn't get much more ordinary than Reading. From the moderately successful football team that people get immoderately fervent about, to drowning the week in vodka mixed with unfamiliar brands of energy drink. Points on your license and another strappy top from H&M. "Sluts" and DIY. The M4 motorway snakes around it, railway lines fan out towards London, the major cities of the North, South and West, and other parts of the commuter belt. The town drains into waterways which once trafficked people and things. It's somewhere you pass through on the way to someplace else—Reading is a hundred and forty thousand people who missed their connecting train.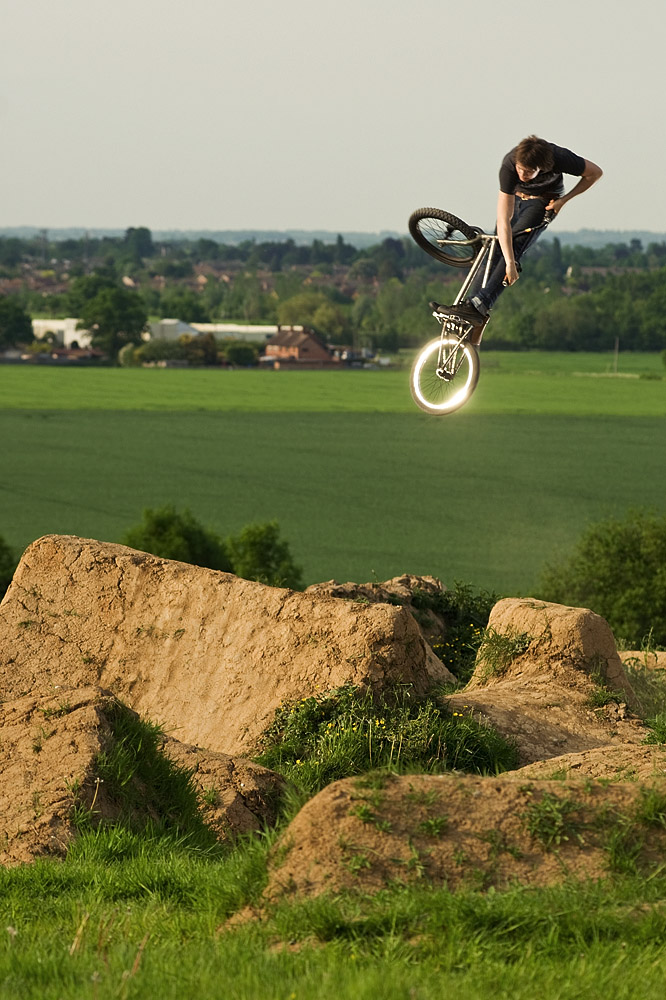 Scott Sharp turndown Reading The Field
from the Reading scene report in Ride issue 118.
It's rarely the grim, honest hardship romanticised in Arctic Monkey's songs and episodes of Shameless; only a home-counties poverty of aspiration instead. The only people I've met here who it hasn't completely ruined have been the ones who ride. BMX is doing something with your life, but not in a context that people who don't ride can hope to understand it. A meaningful act within BMX is what you define it as, and, by extension, what your tribe defines it as. It's not the one-way diktat of society at large; maintaining a dysfunctional relationship, school, choosing the right car or celebrating three-one. Such achievements aren't so pressing if BMX is a more interesting fiction, and sometimes it requires the tribe to unwittingly nourish that conviction.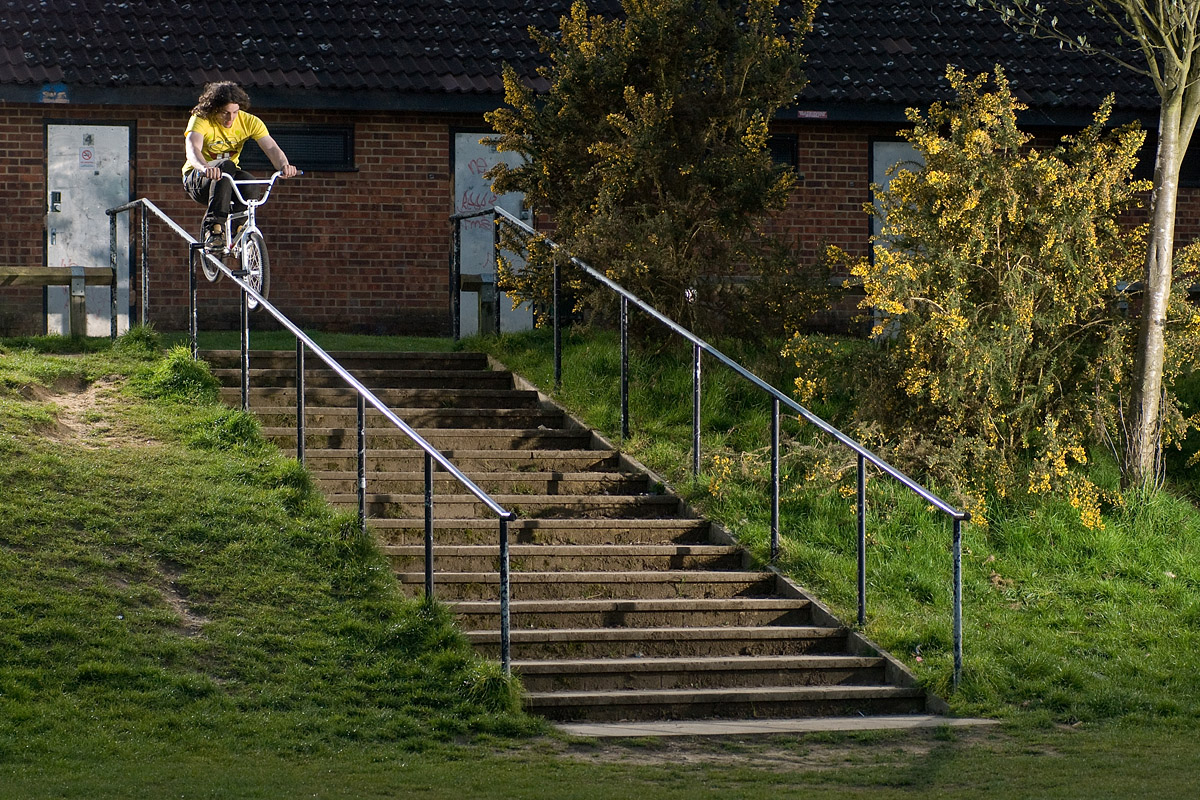 from the Reading scene report in Ride issue 118. Like some of my better photos, this is also available on Flickr.
Whether you're exploring your surroundings as part of growing up or, like me, as a migrant, a bike—any kind of bike—is a pretty good vehicle. You're not boxed in like a driver, but you can get around a lot faster than by walking. Whatever impression you form of a place defines who you are as much as any interpersonal relationship does. Whatever impression you form is going to be subjective based on your interactions with the place, but it's less misinformed if you take in the ordinary as well as the noteworthy. Because riding BMX enforces a different engagement with your surroundings you see the dull parts of a place no-one else bothers with. And because BMX gives you this unique engagement with your surroundings it's a way of exerting your identity back upon a place. There's nowhere more important for that to happen than somewhere as dehumanisingly ordinary as Reading.
In the film Happiness there's a scene where one of the characters is talking about the place she lives:
Y'know, people are always putting New Jersey down. None of my friends can believe I live here. But that's because they don't get it: I'm living in a state of irony.
As a satellite to somewhere ostensibly more exciting, Reading has some parallels with Newark, New Jersey, where the film is set. But irony admits defeat: It's better to engage with what you've got, which is why there's a good scene here, even if it's not somewhere many people travel to as BMX tourists.
We have an assortment of small outdoor council skateparks, which run the gamut from fun to shameful wastes of tens of thousands of pounds. The council also provide a racetrack, but like many of the skateparks it's in one of the worst parts of town (so read run-down, littered with broken glass or no place to go alone). Somewhat better outdoor parks can be found in nearby towns like Farnborough, Bracknell and Maidenhead, along with the similar scenes that form around them. There aren't any indoor parks within an hour's drive, but various people have been trying to get one running since before I came here and it looks their efforts might pay off sometime in the not so distant future.
Most of the street spots look better than they ride, but there's enough variety to keep life spiced. The town is sufficiently sprawling to find new things to ride every once in a while, and occasionally a new construction brings a new spot with it. Having lots of large office buildings and a university helps (although both are conscious of BMX and skateboarding so there's no shortage of skatestoppers and jobsworthy security guards). Most importantly there are enough people who are willing to spend a few hours after work hitting up spots, or taking a pedal to scout out somewhere promising.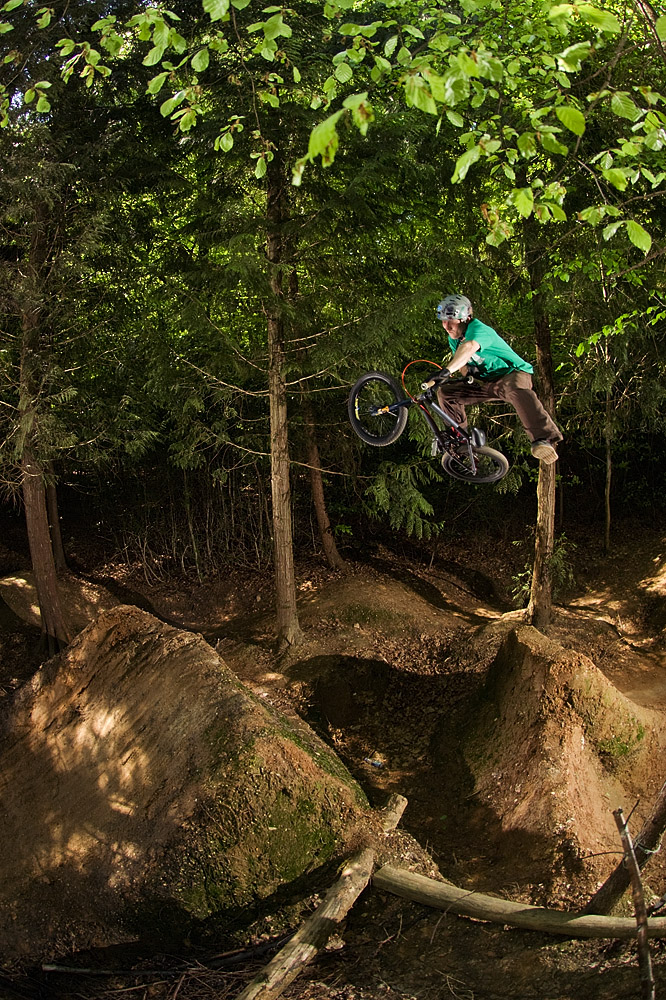 jim one footer table Reading Shitty B's
unused photo from the Reading scene report article.
Trails come and go; Knowlhill, for example, got knocked down soon after I moved here. But there are always people digging, and when summer comes around there's always something running. We're now lucky enough to have people nearby who rent land or have built stuff in their gardens, so something more permanent is available, for the moment at least. Even if there's no riding happening, a trip to the trails is always a good excuse to eat barbequed food and hang out in the woods with friends.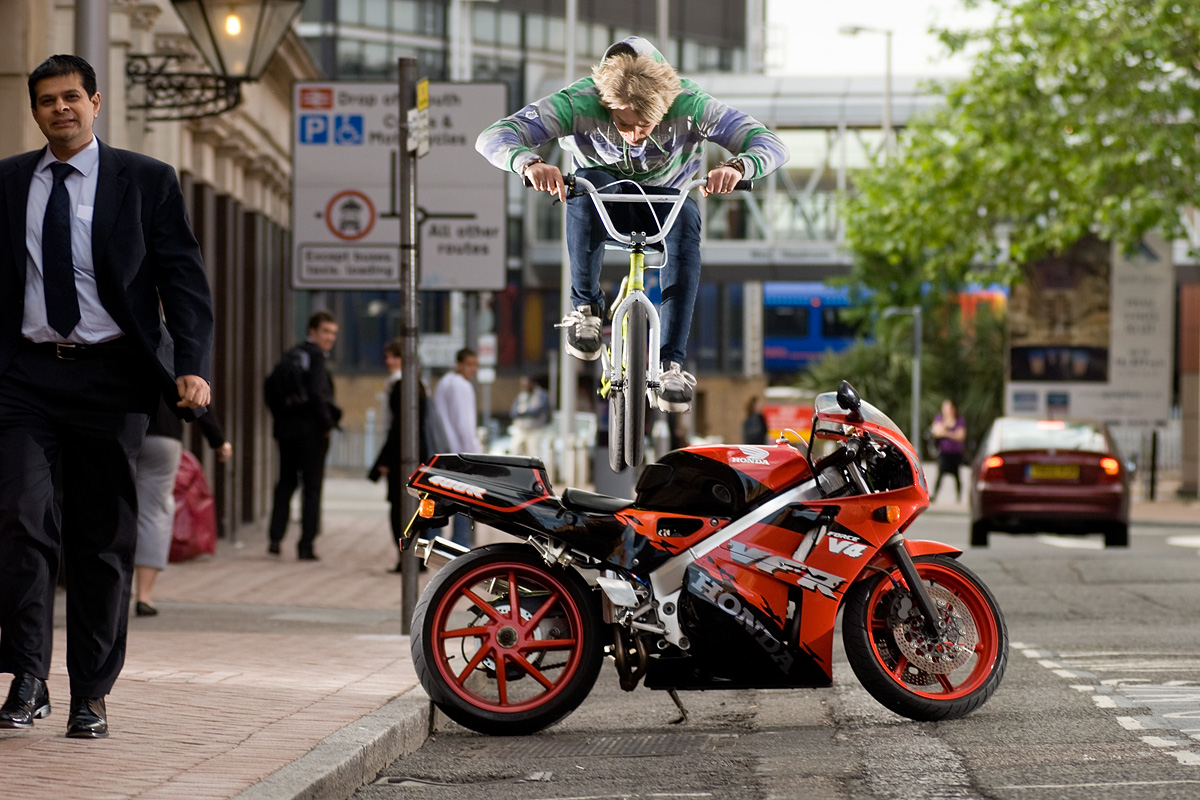 Ride UK BMX Magazine issue 118 is now out, featuring a Reading scene report by me. Here's one photo from it, go purchase to see the rest.
So this article isn't as much a goodbye to Reading as it is a thank you to the only people who could have made it feel like home, the people who have written me into the collective fiction we tell each other to make sense of this place. I'm not sure what story I'd be telling myself (and recounting to you) if it wasn't for this lot so the least I can do is get their names printed in a magazine: Here's to Adam K, Babs, Bateman, Bowen, Brash, Cameron, Dan, Dias, Fat Sam, Flatland James, Gary Gurner, George, Greg, Guy, Jim, Joe, Josh, Konstant, Kurt, John Wells, Leon, Little John, Matty, Max, Merlin, Nate, Paton, PullBackAndYank.com Sam, Peeling, Polski Mateusz, Reece, Ricky, Roland, Ryan, Sam S, Sharpie, Shitbag, Sick Ant, Sid, Sketcher Kris and Whitey.
—