Originally published in Ride UK BMX Magazine issue 136, January 2010. Based on a interview recorded in November 2009. Appears here in a slightly edited form.
Published in Ride UK issue 136.
Queen's Park, Kensal Green, Willesden Junction, Wembley Central and on to Watford is 31 minutes on a stopping train. The distance is not, physically, great. But in a city like London, sliced up along arbitrary boundaries, it's an inter-planetary, incomprehensible distance. Here, where you live is inextricably linked to who you are. It's one of the first questions the newly-introduced ask each other, and identity is implicit in the answer. Akin Hercules-Walker's parents were concerned that the sociological implications of these boundaries would lead him to make, as he puts it, "some bad decisions"—from drugs, to robbing people for money for drugs, to carrying weapons in the belief that they will protect you from being robbed for money for drugs, or just for your phone.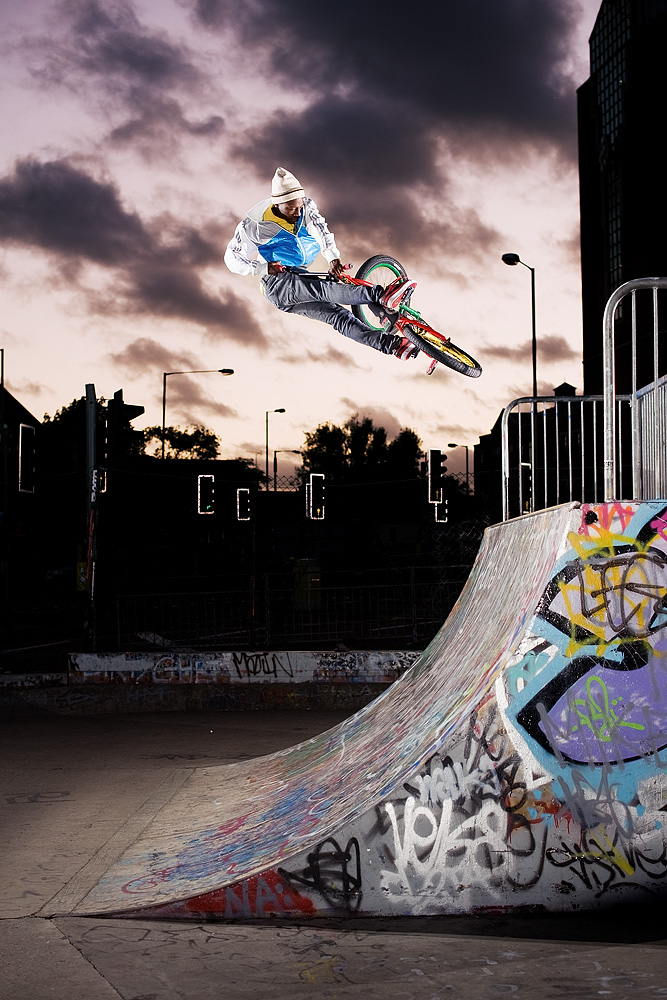 Akin Hercules-Walker turndown Watford
Unused photo from Akin's informer in Ride UK issue 136, out now.
I was conditioning myself to not really careSo it was at 13 that Akin moved, with his family, to Watford, a suburban enclave between the definition of outer London and its orbital motorway, the M25. W9 to WD19 in postcode parlance. BMX is something he took to Watford with him, having been going to skateparks in London for about a year. In other words, he's now fifteen, has been riding just two and a half years (a short enough time to still count the half-years) and possesses the abilities of someone who's been riding considerably longer.
I don't press him about exactly how deeply involved in violence he became, if at all, but it wasn't something he wanted to become involved with. "I've always been the sort of person that, when I was with my friends, I'd try to stay away from the people that were robbing. But you can never really stay away for that long if you know people like that."
London has always had violent parts, though which exactly they are varies. Often they abut, or even become some of the most desirable parts. The youngest child by some margin, Akin was perhaps unlucky to have been born into an area that was and is one of the more violent. Kidulthood was set in the same part of London—to the extent that Akin had three friends living in the same tower block where the character Sam lived. His parents have between them successfully brought up five other children (three brothers and two sisters), some of whom (two brothers, one sister) are in their late twenties, settling down and starting families of their own. I never got to properly meet his dad, but his mum is a professional, educated person who refers to Akin as her "baby". She is a positive, loving influence, perhaps attributable to the Rastafarian faith she shares with her husband. Akin doesn't consider himself religious, but is influenced by the peaceful and respectful aspects of his parent's faith. Not that he doesn't enjoy boisterously flirting with any girl in the immediate vicinity, or getting higher than he previously thought possible at a good house party. But he is certainly all too glad that, at 15, he is not a street-level coke dealer like one former peer he mentions. So while he doesn't contest that it's possible to grow up where he did and still "actually do something with your life", it was more that he was losing sight of that alternative: "I was slowly getting more used to doing the sort of things they were doing, I was conditioning myself to not really care."
Akin "rode around on BMX bikes" most of his life without considering himself a BMXer. In the last year of being in London he saw Animal's Can I Eat and out of curiosity started going to the skateparks local to him: Meanwhile 1 (old-school concrete bowls), Meanwhile 2 (old-school concrete flatbank half pipe), and, further along down under the A40 flyover, Bay66 (wooden, formerly named Playstation, often used as a filming location for "urban" video shoots). Plenty of places to ride, though he says he didn't take it that seriously, only riding weekly or thereabouts.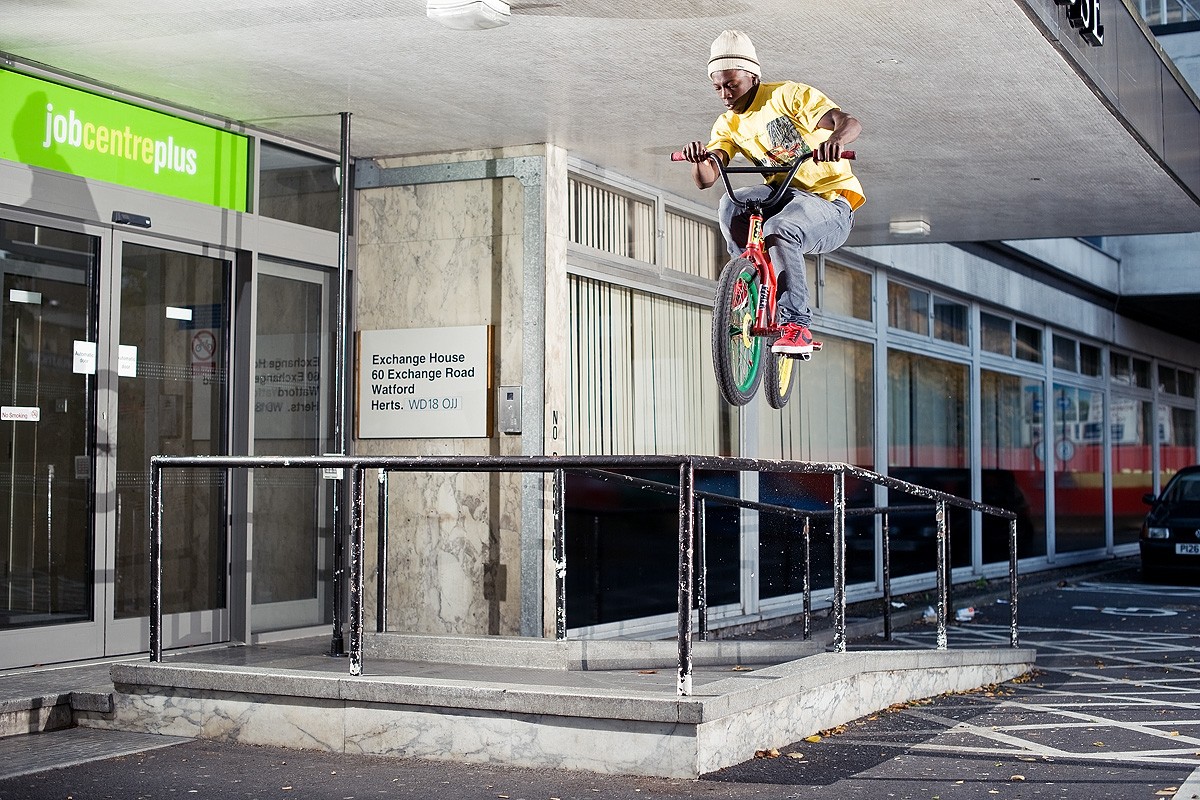 Akin Hercules-Walker double peg Watford
Double peg up to hop over the corner. Published in Ride UK issue 136.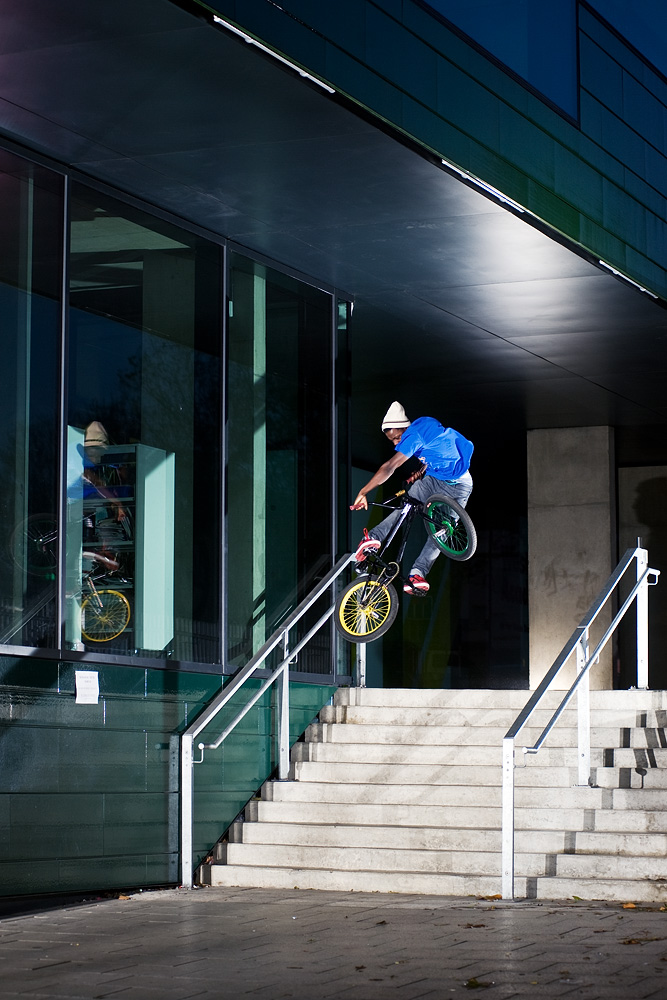 Akin Hercules-Walker turndown London
This was a warm up for the no hander that Akin did here. Never bothered submitting this because I thought we already had a better turndown photo.
…you don't have to stop everything else in your life to rideWatford is a safer place: there's the odd lairy high street drunk, semi-detached bedroom weed dealer, and bean can exhaust scraping the speed bumps. Compared to London, there is less than half the amount of violent crime, and an eighth of the amount of robbery. When I ask what he misses about London Akin says "just calling someone up and going and sitting somewhere". A succinct explanation of the difference—in London you can be passive and there's always something interesting happening around you, in Watford you have to be proactive—and an explanation for why he started riding more often.
He also found that in Watford riding was a more acceptable thing to do. There's a greater variety of people that do it, "I realised that you don't have to stop everything else in your life to ride". It was in Watford that he graduated from being the kid with a BMX bike who'd go to the skatepark, to what he considers a BMXer, to the kind of person who can't really imagine what their life would be like if they weren't a BMXer, "Even if I didn't ride I'd still hang out at the skatepark and talk to the same people I do now". His riding is still primitive—self-describedly sketchy but in the best, most gut-level-exciting way. His friend Dom says that "he rarely thinks before he tries things, but they usually turn out pretty well." Akin says that "I'm usually pretty surprised when I want to do something and I don't … If you hurt yourself doing something it seems pointless to stop there—you've hurt yourself for nothing." There's definitely the beginnings of a style to his riding though; he has the power and simplicity that separates interesting riders from huckers and nibblers.
He cites a real mixture of influences from Etnies' Forward (made three years before he started riding) to recent Volume web edits. In terms of riders, it's mostly contemporary street guys like Randy Taylor, Nigel Sylvester and Corey Martinez; as well as the Watford locals he now rides with (Jason, Dom), and former area local Lloyd Wright. His bike is a rattling approximation of a modern-day street bike (brakeless, wide bars, two pegs, visible seat post, freecoaster) held together with zip ties used for things that zip ties really shouldn't be used for. When I first met him at the Dub/Carhartt/Project 5 London Jam, it was nearly all red. Shortly after, we began shooting the photos for this article and it had turned the green, yellow and red of the Ethiopian flag. By the time we were getting the last couple of photos done it had gone all-black (but still with a green front wheel and yellow rear wheel). He estimates that there are at least two more coats of paint underlapping the ones I've seen.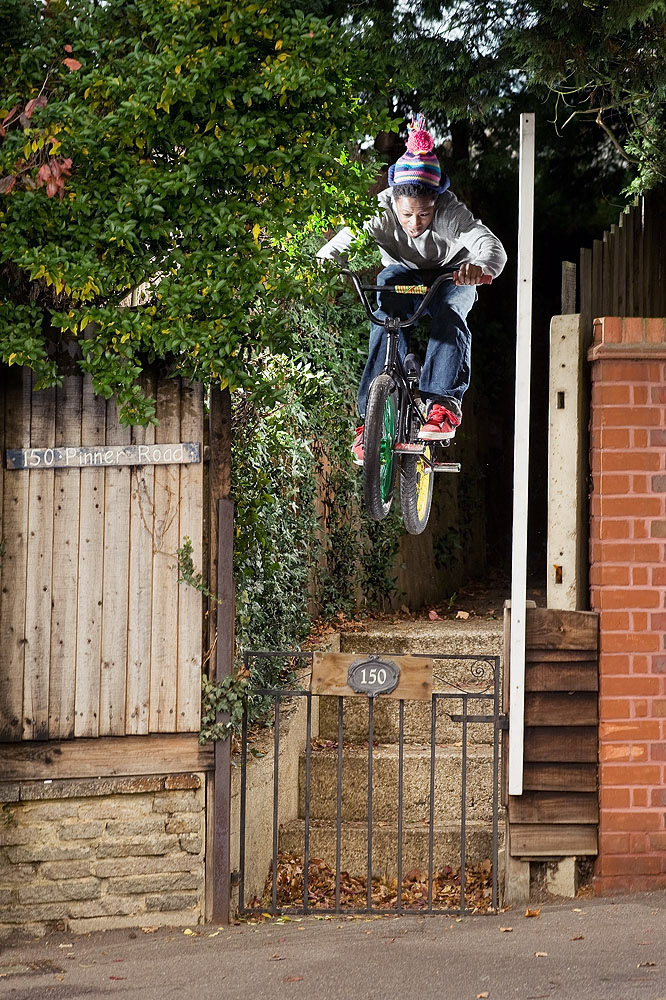 Another unused one from Akin's informer in Ride UK issue 136. Akin had been eyeing this gap up for a while—the path down to it leads through his garden.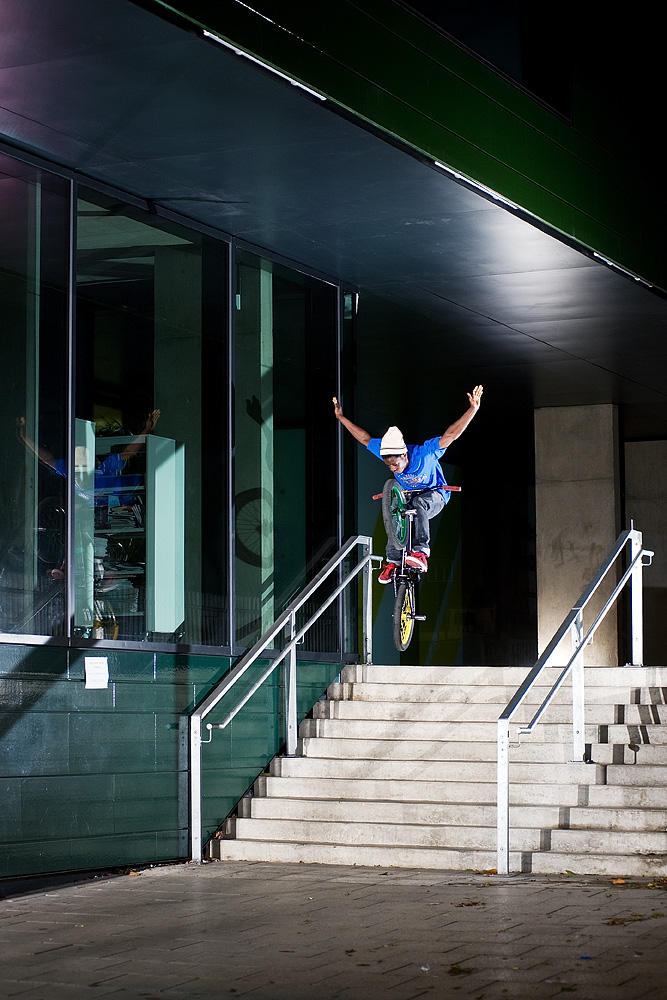 Akin Hercules-Walker no hander London
Published in Ride UK issue 136.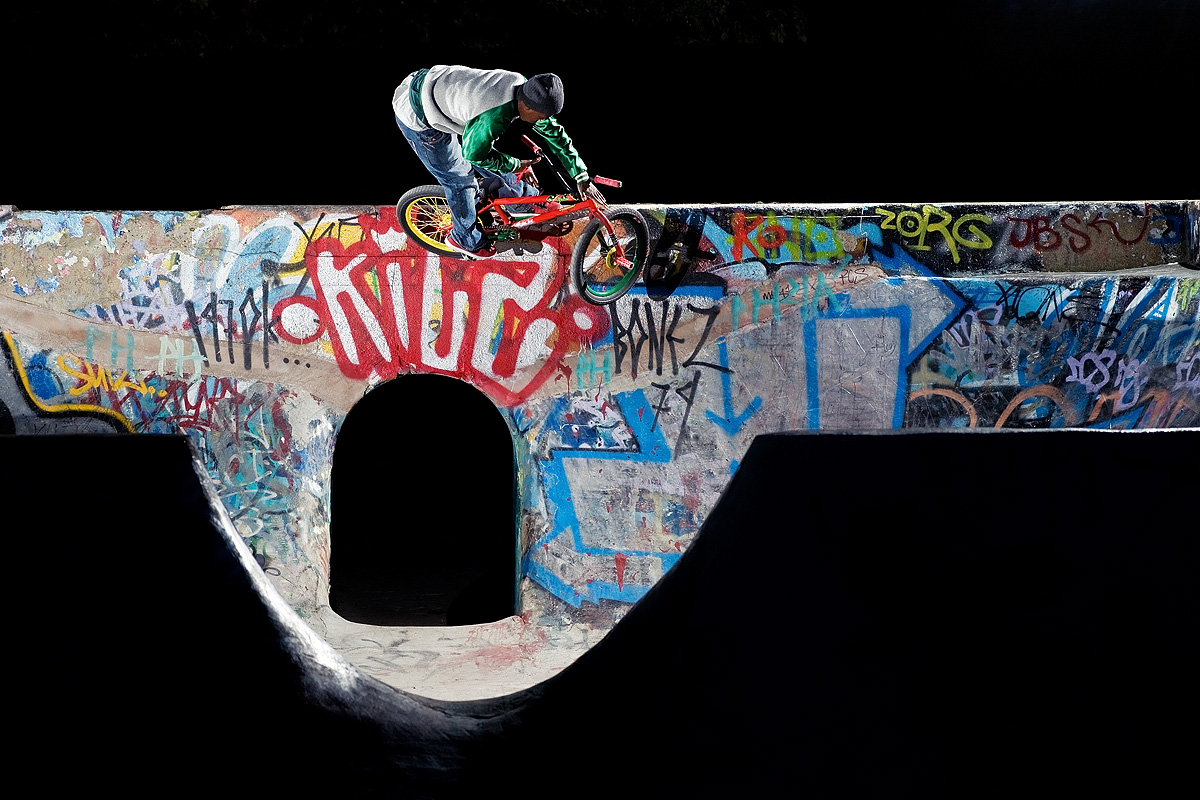 Akin Hercules-Walker barspin London The Spot
Part 1, from 2007. Published in Ride UK issue 136.
Like his riding and like his bike, Akin is sketchy, slightly wild, loosely defined, still under development. More than once he answers a riding-related question with "when I was living in London…" The distinction is so clear it's as if he's talking about someone else entirely, someone divorced from him not only by time but also by distance, buried under years and miles. Anyone at 15 is quite different from themselves at 13, is quite different from themselves at 18—the problems of who you are, who you were, and who you will be are the crux of the teenage years. But understanding his relationship with riding has helped him understand his relationship with who he was, and who he has now become. In terms of the basic mechanics, the hands-on-grips, feet-on-pedals physicality of it, BMX doesn't really change. It's a constant, a grid reference. That his relationship with it has grown stronger since the move is no coincidence; the rest of his life is something he's still mapping out. As for who he will be, I only know that he's not finished with BMX for the foreseeable future, and nor is it finished with him.
* * *
Subsequent to the publication of this article Akin got hooked up by Superstar through Zeal. You might also like Craig Tull's Akin edit.
—